CNC SERVICES
Walsh Avionics can fabricate/manufacture instrument panels and provide other custom CNC services as required. We fabricate a comprehensive range of specialised and custom wires and cables, as required.
Our 'in-house' services help Walsh Avionics maintain our competitive edge…our in-house capabilities include:
Computer Numerical Control (CNC) Machining

Custom Instrument Panels

Silk Screening Coordination

Fabrication of Wires & Cables
Walsh Avionics owns and operates one of the largest precision CNC Instrument Panel cutting machines in Western Australia. Our in-house equipment allows us to provide custom CNC services for panel fabrication for aircraft, maintenance facilities and to anyone requiring custom fabrication of high quality, precision made panels.
​
Walsh Avionics are among the few organisations in Australia who provide "complete" avionics solutions for your aircraft from avionics components and instrumentation to the design, fabrication, supply and installation of custom high quality, precision made instrument panels. For aircraft owners, we can design and install a new custom instrument panel or re-design a portion of your panel.
Walsh Avionics can complete fabrication of any custom panel promptly and cost effectively…giving you the highest quality solution to your upgrade.
​
We can take your design input via paper plot / fax / email, or we can accept AutoCad DWG or DXF file formats and as we cut the panels in-house you are free to manipulate the panel layout to suit your individual needs.
​
The Panel Pro™ model 5925 is a computer controlled router optimized for aluminium sheet metal 1/8″ thick. It is at home in avionics shops, or anywhere complex routing is required.
It has an x axis (width) travel of 59 inches, y axis (height) travel of 25 inches, and a z axis (up and down) travel of 3.125 inches. With multiple passes, aluminium as thick as 1/2″ can be cut. All 3 axis are computer driven with heavy duty NEMA size 23 stepper that outperform older size 34 motors.
FABRICATION OF WIRES & CABLES
Walsh Avionics can fabricate:
Wiring Looms – for assembly of customised or specialty wiring harnesses

Wiring Harnesses & Data Bus cables for: IFE; wings; landing gears; fuselage and cockpits

Coaxial Cables – for high speed / high frequency transmission: radio, radar, anti-collision

Special Cables Assemblies – for connections to the engine and satellite communications

Power cables – for power supply units

Fire Resistant Cables
Walsh Avionics will assist you throughout the fabrication process and provide engineering design support to support multiple changes. All of our products undergo numerous in-process inspections to ensure they comply with our customer's requirements. All our products are tested and undergo a final inspection.
Electrical Wiring Harness
From small radio frequency or coaxial cable assemblies to large complicated assemblies comprising of hundreds of connectors and thousands of feet of wire.
Braided wiring harnesses

Coaxial or RF cable assemblies

Open/Closed bundle harnesses

Flight control; Flight test instrumentation; and Ground support wiring harnesses
Laboratory test cables

Large wired enclosures

Moulded cables

Power feeder cables
Aircraft relay panels are some of the most complicated electrical products and can have thousands of circuits and hundreds of wires. All aircraft panels fabricated are tested to ensure correct wiring and every circuit operates as designed.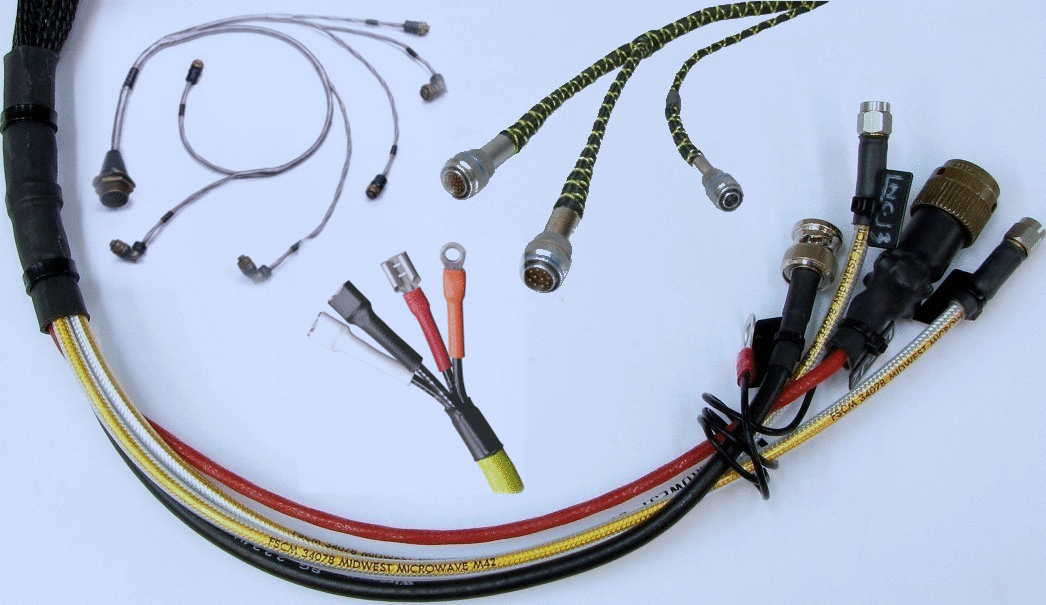 Aircraft Rewiring & Modification Kits
Our mod kits contain all of the wiring harnesses, panel assemblies and installation hardware to completely rewire an aircraft.
We fabricate and assemble internal wiring for cockpit panels and perform functional testing.
Power Distribution Panels
Walsh Avionics fabricate circuit breaker panels, otherwise known as aircraft power distribution panels and have fabricated both DC and AC current as well as AC/DC current power distribution panels for many fixed and rotary wing aircraft.
Aircraft electrical wiring harnesses

Aircraft power distribution panels, relay panels, cockpit panels, and multiplex panels

Aircraft simulators and demonstrators

Connector pin-out aids

Paperless traveler systems

Electrical wiring harness boards